How to get amazing audio for your videos
When creating a video people have a lot of questions related to audio. How to add background music to my video? Where can I get high-quality music for my video? Are there free sites to get audio for my video? To answer them in an effective way we decided to write this blog post and go through top 6 audio sources for your video.
Flixier Audio Library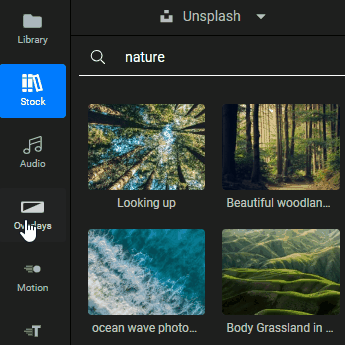 The easiest way to get audio for your video is from the recently built-in Audio library in Flixier. All you have to do is go to the Audio tab in the library panel and search for something that you like, simple as that. This library is of high quality and most of the music you will find is suitable for the background of your video. In most cases, you would use these for any video, from Vlogs to Gaming, to Corporate and many more.
We also recently added support for importing music from SoundCloud. To access Soundcloud's huge library you need to search a sound you like on soundcloud.com, copy its link and then return to Flixier where you can click on the Import button in your library, select SoundCloud and paste the link. The music track will automatically be added to your timeline.
There is no denying it, SoundCloud is a vast resource of super high-quality music tracks but it comes with a caveat. A large majority of them are under license and you will need to ask for permission from their creators to be able to use them. Most of them will agree to let you use their work if you agree to mention their name somewhere in the video. The mention is usually in writing and I think it is truly worth it. After all someone put in hard to create a masterpiece and this is your way of thanking them for letting you use it.
There are also situations where the sounds are free to use with no requirements which make the platform even better but be sure to double-check. In the worst-case scenario, you might have your video blocked by YouTube due to a copyright strike and that is not something you want.
Another great resource for audio is the YouTube Audio Library, it is a totally free website that allows you to download a huge amount of audio files to use in your projects. The best part so far about this Library is that you can also find sound effects. Do you need a car engine sound, or a thunder sound, or maybe a river flowing sound? This is the place to go. Getting the files is super simple, you don't even need to sign-up for an account. You just need to search for the audio you need, click on it and press the download button. The file will download and from now on all you have to do is import it in your project.
In Flixier you can press the "Import" button in your library and then look it up with your file manager, click on it and then click Import. That's all, now you can drag and drop it on your timeline to start using it.
This is a very popular big audio library that would probably cover all your needs. Still, to be able to use sounds from Audioblocks you need to purchase a monthly subscription which ranges from $9/month which allows you to download 3 music files each month to $15/month for unlimited downloads of music, sound effects, and loops.
Given the free options mentioned above, we think you really need to try these out and see if the subscription is worth it for you. The positive aspect of Audioblocks is that you can download watermarked files that you can try in your projects before deciding to pay for the subscription.
If you do decide to use the Audioblocks library you will need to download the files and import them in your project just like you would do with the YouTube Audio Library. The process is identical.
Audiojungle is the second and last paid option on this list, while very popular just like Audioblocks it's model is a bit different. You still need to pay to access its files but this time you don't need to opt-in for a subscription you will just pay for a specific sound that you like. With prices starting at $1 we think it's well worth a look. Once you get a file the import process in your video is exactly the same as in the case of Audioblocks and YouTube audio library.
Youtube video sound
Another option to getting sound for your videos is to use already posted videos on YouTube. There are plenty of channels on YouTube that promote royalty-free music and indie artists. This is usually high-quality music that comes with the same warnings as SoundCloud. Make sure you read the usage terms of these songs and even get in contact with their creators if you feel unsure.
To get the sounds in Flixier just copy the YouTube link, next press the import button in Flixier, select YouTube and paste the link to add the video on your timeline. There is an additional step here if you want to remove the video. Right-click on the video in the timeline and select Detach audio, which will separate the audio track from the video, now you can just delete the video track and use only the audio.
Here is an example of a channel where you can find awesome audio that you can use in your YouTube videos.
Keep in mind that besides audio there are other ways to make your videos more engaging and you should definitely also check-out best steps to edit a great video.
These are all the channels to get audio for your videos that we think are the easiest to use and are most popular. If you have other suggestions don't hesitate to let us know.